This is an older podcast project, circa 2014. I feel it is out-of-date, but it does show that I have a decent set of audio skills and developmental strategy when it comes to show production. These skills have only improved, using the most cutting edge versions of

Adobe Audition, and other audio editing kits

where the knowledge easily translates. We also switched to

multi-track recording via mobile audio

editing applications. I prefer

Auria

! 
In addition, we introduced a

real-time sound effects panel

, via an app on a second iPad. We also took calls and anything else I could get done on mobile devices. It was still of great quality, and it made it far easier to haul my gear where it needed to go. I left the bigger pieces of kit on-site. I am certainly capable to talk shop. For speed, I am resurrecting this demo.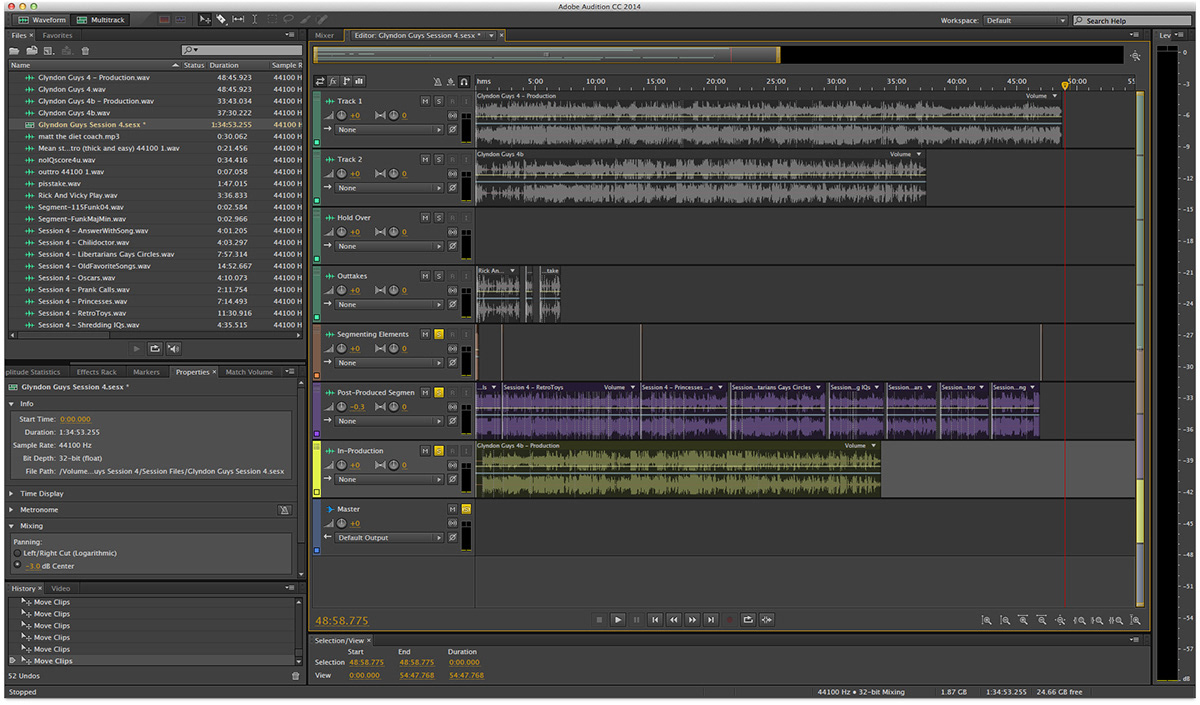 Recording session #4 resulted in episodes 5 and 6. I still endeavor to keep podcast episodes

no longer than 30 minutes in length or LESS

! Tough to do, but I think keeping episodes short and manageable is best for this format, even if it results in several 2-part episodes. It is easier for listeners to digest, and it

ALWAYS LEAVES THEM WANTING MORE

! 
Short-form video

is something I have advised for a decade now, anywhere from 2-10 minutes. Seeing it is even possible at 15-60 seconds on social media media is certainly fascinating and something I explore.
This is how the Adobe Audition session looked upon publication of episodes 5 & 6. I started post-production of each recording session using a template I created upon completion of the first episode. One to two episodes per recording became par for the course, and many decisions were made about show format, direction, and technical specs. A modified base template was created.
I was psyched to be at the point in the show's development having devised a solid, yet agile base template that cut my workload down significantly for the duration of the show's lifetime. 
This template made it easy to keep track of the rotating segmenting elements, as well as to make sure each episode flows with a theme. There was method to the madness that was our show!
My comedy troupe has since turned in the podcasting format, in favor or the short-form skits that are now in post-production! Looks for a portfolio entry soon!